Black Stone Cherry heeft hun achtste studio-album 'Screamin' At The Sky' aangekondigd, aan dat op vrijdag 29 september uitkomt op Mascot Records. Ter voorbereiding op het album brengt de band ook een nieuw nummer uit: 'Nervous'. Eerder dit jaar bracht Black Stone Cherry de eerste single 'Out of Pocket' uit, welke meteen een publiekslieveling werd tijdens de laatste reeks shows van de band.
De in Kentucky gevestigde band, bestaande uit Chris Robertson (lead vox/gitaar), Ben Wells (gitaar/achtgr. voc) en drummer John-Fred Young (drums/ achtgr. voc), worden op dit album voor het eerst vergezeld door de "nieuwe" bassist Steve Jewell Jr. (ex-Otis). De fanbase kent Steve al geruime tijd aangezien hij sinds 2021 al een vaste waarde is bij Black Stone Cherry.
Over de nieuwe video vertellen de mannen het volgende: "Filming the video for 'Nervous' was an amazing experience. Like being on a movie set! We spent the day in an old paint factory-turned-production studio that had all of these amazing sets for TV and movies. The actor, Mateo Palmitier, did an AMAZING job as the lead character and it was such a cool experience seeing all of these visions come to life thanks to our director, Kyle Loftus and his incredible team. We love how the video will go between our performance, a great story line, and some killer visuals!"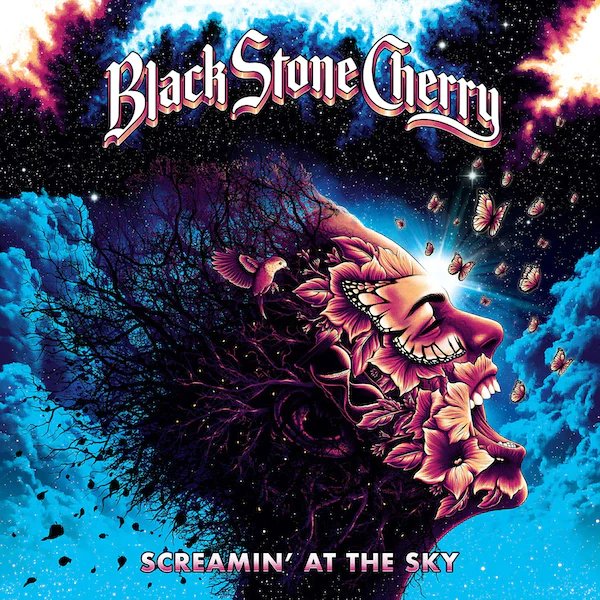 Over het album vervolgd de band: "Every band that puts out a new record will tell you they are excited – as they should be. However, we may take the award for being the most excited about releasing a new album into the world! We can guarantee that it'll move you in one way or another. We had a lot to say lyrically, musically, and sonically. We pushed ourselves to create not only something relevant, but also pushing the envelope to bend the trend. We are truly proud of this collection of songs and we hope you'll celebrate it with us."
'Screamin' At The Sky' bevat geheel nieuw materiaal dat gezamenlijk op tour is geschreven, maar toen het tijd was om op te nemen besloot BSC iets te proberen waar het altijd van heeft gedroomd: een album opnemen in The Plaza Theatre in Glasgow, Kentucky – een legendarische 1020 zitplaatsen tellende zaal gebouwd in 1934 met een prachtige akoestiek. "Every time we played the Plaza we wondered what it would sound like to record drums there. We finally decided to put all our eggs in one basket," aldus Chris. In juni 2022 huurde de band de hele zaal af en verhuisde ze al hun opnameapparatuur en trouwe ingenieur Jordan Westfall die kant op. De kelder werd ingericht als control room en op het podium werden de drums opgenomen. De opnames in deze karakteristieke zaal hebben geresulteerd in een muzikale mijlpaal voor BSC.
Het laatste album van Black Stone Cherry, 'The Human Condition', kwam uit in oktober 2020 en was hun zesde opeenvolgende nummer 1-album in de UK Rock Album hitlijsten. De eerste single van het album, 'Again', was de grootste single van de band in meer dan 10 jaar in Amerika, met een piek op #15, en hun hoogste hit ooit in Canada met een plek in de top-15. Het album behaalde wereldwijd 50 miljoen streams. In de loop der jaren heeft BSC onder andere als headliner diverse arenashows gespeeld en het podium gedeeld met een breed scala aan supersterren waaronder Alter Bridge, Def Leppard, Gov't Mule, Nickelback, Lynyrd Skynyrd, Bad Company, Mötorhead, Halestorm, Stone Temple Pilots, The Darkness en ZZ Top. In 2018 trad BSC op voor 100.000 mensen op het Download Festival als support van Guns N' Roses en in 2021 speelde de band in de prestigieuze Royal Albert Hall, vereeuwigd op de live-DVD 'Live From The Royal Albert Hall…Y'All' uit 2022.
Het album is verkrijgbaar op Wit Vinyl, een Limited Edition Vinyl Boxset, CD en digitaal. De release is op 29 September via Mascot Records