'Ghost Stories Live 2014' is gefilmd door regisseur Paul Dugdale die voor een Grammy is genomineerd. Twee maanden voor release van het platina album 'Ghost Stories' (mei 2014) speelde Coldplay in een op maat gemaakt amfitheater in de Sony Studios te Los Angeles. Hierdoor kon de band op baanbrekende wijze worden vastgelegd met 360 graden beelden, waardoor het optreden van alle kanten kan worden bekeken.
Chris Martin zegt: "The Ghost Stories show at Sony Studios was a very special moment for our band. The magic theatre built by our incredible crew with the 360 screens was literally a dream come true. And it was the first time anyone outside of our studio had heard the new songs. This film is basically our original vision for the Ghost Stories album."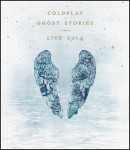 Naast de DVD bevat de release ook een exclusief 'Ghost Stories live' album, met audio die is opgenomen tijdens de zeer exclusieve showcases in Londen, Sydney, Parijs, Keulen, New York en Los Angeles in de periode april t/m juli 2014. Tevens zijn er acht muziekvideo's van het album Ghost Stories op de DVD terug te vinden. Inclusief twee niet eerder verschenen video's voor de B-kanten 'All Your Friends' en 'Ghost Story' plus de exclusieve 'Extended Director's Cut' van de video Magic met een gastoptreden van Peter Fonda. Afgelopen mei bracht Coldplay hun zesde album 'Ghost Stories' uit, met onder andere de single 'True Love' en de twee gouden singles 'Magic' en 'Sky Full Of Stars'.
'Ghost Stories Live 2014' is vanaf 21 november op DVD/CD, Blu-ray/CD en digitaal verkrijgbaar
DVD/Blu-ray
'Ghost Stories Live 2014'
1. Always In My Head
2. Magic
3. Ink
4. True Love
5. Midnight
6. Another's Arms
7. Oceans
8. A Sky Full Of Stars
9. O
Music videos:
1. Midnight
2. Magic (Extended Director's Cut)
3. A Sky Full Of Stars
4. True Love
5. Ink (Live at the Royal Albert Hall)
6. All Your Friends
7. Ghost Story
8. Always In My Head (Artwork Animation)
Alternate Live Takes:
1. Always In My Head
2. OceansCD:
1. Always In My Head (Live at the Royal Albert Hall, London)
2. Magic (Live at the Enmore Theatre, Sydney)
3. Ink (Live at Le Casino de Paris, Paris)
4. True Love (Live at the Enmore Theatre, Sydney)
5. Midnight (Live at the Royal Albert Hall, London)
6. Another's Arms (Live at the Beacon Theatre, New York)
7. Oceans (Live at E-Werk, Cologne)
8. A Sky Full Of Stars (Live at the Royal Albert Hall, London)
9. O (Live at Royce Hall, Los Angeles)