BMG en Niji Entertainment Group Inc. hebben de handen ineen geslagen om de DIO studio albums uit 1996 – 2004: 'Angry Machines' (1996), 'Magica' (2000), 'Killing The Dragon' (2002), en 'Master Of The Moon' (2004) opnieuw uit te brengen. Deze nieuwe geremasterde versies bevatten zeldzame en nooit eerder uitgebrachte live en studio bonus tracks. Het remasteren is gedaan door Wyn Davis die lang met DIO samenwerkte en het artwork is opgepoetst door Marc Sasso, die veel artwork voor DIO maakte.
Het vinyl, wat al lange tijd niet meer gemaakt wordt, komt nu opnieuw uit op 180gram zwart vinyl en beschikbaar als een Limited Edition eerste run met een 3-dimensionale hoes. Bij het 'Magica' dubbel album zit als bonus ook een 7" single met 'Electra', het enige volledig afgemaakte nummer wat voor 'Magica 2' bestemd was.
Ook de CD versies worden al geruime tijd niet meer gemaakt. De geremasterde Deluxe versies zitten in een mediaboek en bevatten een tweede disc met zeldzaam en niet eerder uitgebracht bonus materiaal. In toevoeging op de zeldzame studio tracks 'Electra' (op 'Magica'), en 'Prisoner Of Paradise' (op 'Master Of The Moon'), bevat elke bonus disc zeldzame of nooit eerder uitgebrachte live tracks van de tour volgend op de desbetreffende release.
Wendy Dio zegt over de re-issues: "I am very excited to be working with BMG, a label that still has a passion for rock music. They will be making the complete DIO catalogue available again with some interesting surprises."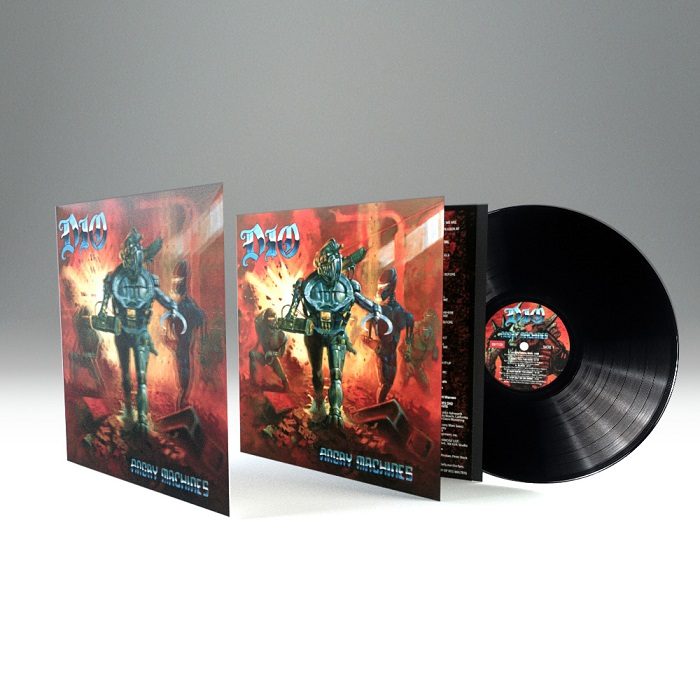 'Angry Machines'
Disc 1 & LP Tracklist
'Institutional Man'
'Don't Tell The Kids'
'Black'
'Hunter Of The Heart'
'Stay Out Of My Mind'
'Big Sister'
'Double Monday'
'Golden Rules'
'Dying In America'
'This Is Your Life'
Disc 2 – BONUS / LIVE on Angry Machines Tour 1997
'Jesus Mary and The Holy Ghost – Straight Through The Heart'
'Don't Talk To Strangers'
'Double Monday'
'Hunter Of The Heart'
'Holy Diver'
'Heaven and Hell'
'Long Live Rock and Roll'
'Man On The Silver Mountain'
'Rainbow In The Dark'
'The Last In Line'
'The Mob Rules'
'We Rock'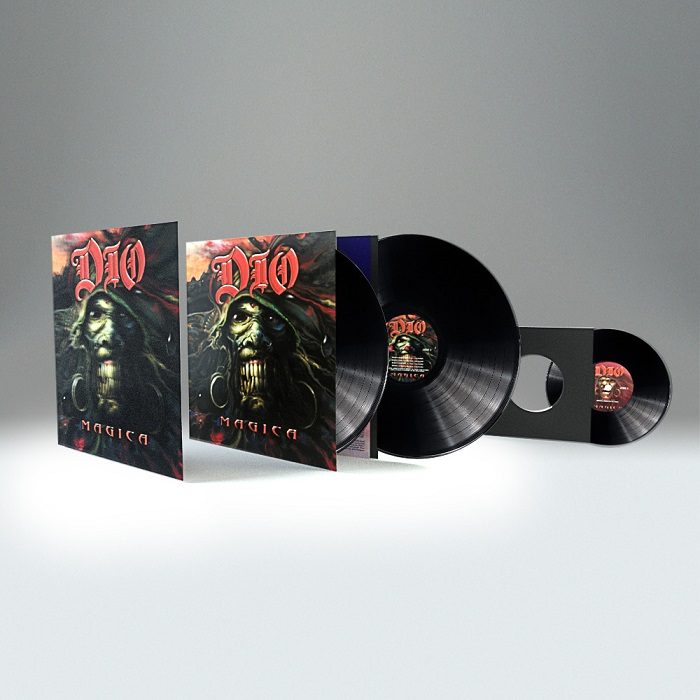 'Magica'
Disc 1 & LP 1 Tracklist (LP 2 includes Magica Story + bonus 7")
'Discovery'
'Magica Theme'
'Lord Of The Last Day'
'Fever Dreams'
'Turn To Stone'
'Feed My Head'
'Eriel'
'Chalis'
'As Long As It's Not About Love'
'Losing My Insanity'
'Otherworld'
'Magica' (Reprise)
'Lord Of the Last Day' (Reprise)
Disc 2 – BONUS / Live on Magica Tour 2001
'Discovery'
'Magica'
'Lord Of The Last Day'
'Fever Dreams'
'Eriel'
'Chalis'
'Losing My Insanity'
'Otherworld'
'Electra' – Studio Track
'Magica Story' – Studio/Spoken Word 18:26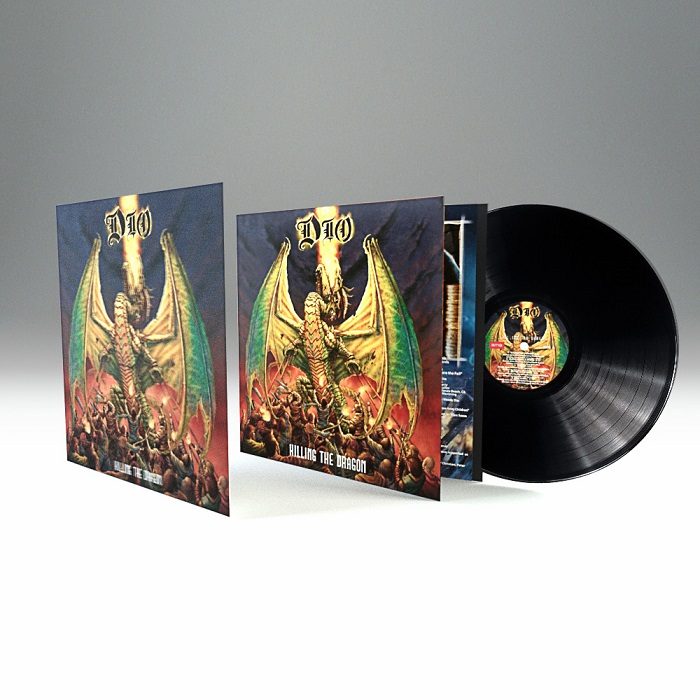 'Killing The Dragon'
Disc 1 & LP Tracklist
'Killing The Dragon'
'Along Comes A Spider'
'Scream'
'Better In The Dark'
'Rock and Roll'
'Push'
'Guilty'
'Throw Away Children'
'Before The Fall'
'Cold Feet'
Disc 2 – BONUS / LIVE on Killing The Dragon Tour 2002/2003
'Holy Diver'
'Heaven and Hell'
'Rock and Roll'
'I Speed At Night'
'Killing The Dragon'
'Stand Up And Shout'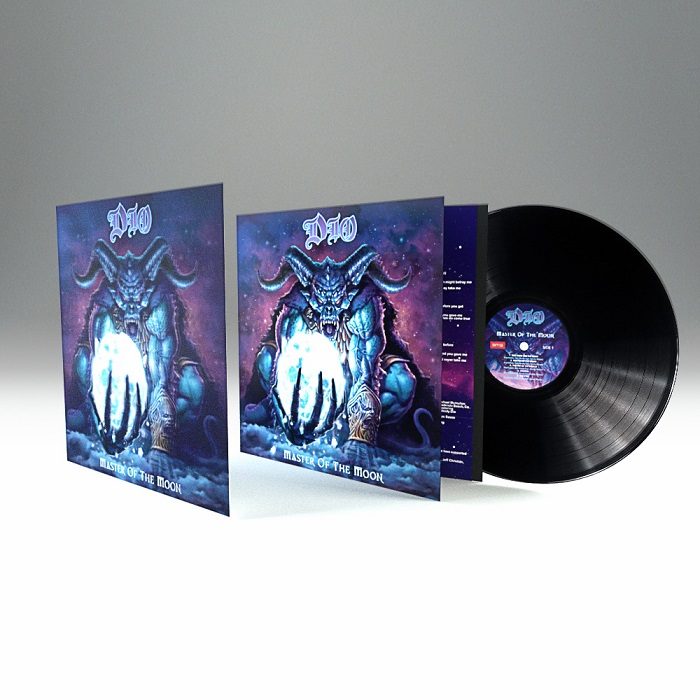 'Master Of The Moon'
Disc 1 & LP Tracklist
'One More For The Road'
'Master Of The Moon'
'The End Of The World'
'Shivers'
'The Man Who Would Be King'
'The Eyes'
'Living The Lie'
'I Am'
'Death By Love'
'In Dreams'
Disc 2 – Bonus / Live on Master Of The Moon Tour 2004/2005
'Heaven and Hell'
'Rainbow In The Dark'
'Rock and Roll Children'
'The Eyes'
'Prisoner Of Paradise' – Studio Track