Naast dat ze een van de grootste bands ter wereld zijn, zijn The Rolling Stones ook de grootste supporters van de blues. Daarom is de band gevraagd om een album samen te stellen met de muziek die ze inspireerde gedurende hun carrière. 'Confessin' The Blues' brengt de beste blues muzikanten ooit samen en geeft een prachtig overzicht van het genre. De nummers zijn door de The Rolling Stones zelf uitgezocht en worden op 9 november door BMG uitgebracht.
"If you don't know the blues… there's no point in picking up the guitar and playing rock and roll or any other form of popular music." – Keith Richards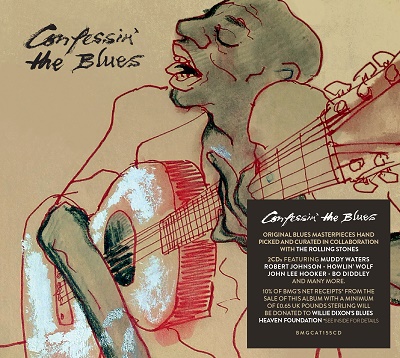 The Rolling Stones zijn al zeer lang liefhebbers van de Blues, van voor het begin van hun carrière tot aan hun laatste album 'Blue & Lonesome' met hun versies van de klassiekers waarvan er veel in hun originele versie op 'Confessin' The Blues' staan. Mick Jagger was al heel vroeg groot fan: "The first Muddy Waters album that was really popular was 'Muddy Waters at Newport', which was the first album I ever bought".
'Confessin' The Blues' bevat nummers van de grootste Blues pioniers zoals Howlin' Wolf, John Lee Hooker, Elmore James, Muddy Waters, Chuck Berry, Big Bill Broonzy en Robert Johnson. Al deze artiesten hadden een impact op de ontluikende Rolling Stones; ze beïnvloedden Keith's gitaarspel en Mick's vocalen en teksten. Zoals Ronnie Wood zegt: "That's how Mick and Keith first got close as well, on the train coming back from college. They noticed each other's record collection and it was: "Hey, you've got Muddy Waters. You must be a good guy, let's form a band".
'Confessin' The Blues' komt uit als een 2CD set, 2×2 Vinyl LP sets en een 5×10" Vinyl bookpack (zoals de originele 78RPM uitgaves). Alle versies bevatten liner notes door muziek journalist Colin Larkin en het bookpack bevat ook verwijderbare art cards door de bekende blues illustrator Christoph Mueller. De album cover is gemaakt door Stones gitarist Ronnie Wood die zijn persoonlijke draai geeft aan het project door zijn geschilderde interpretatie van de Bluesman.
DISC ONE:
1. Muddy Waters – Rollin' Stone
2. Howlin' Wolf – Little Red Rooster
3. John Lee Hooker – Boogie Chillen
4. Little Walter – Hate To See You Go
5. Chuck Berry – Little Queenie
6. Bo Diddley – You Can't Judge A Book By It's Cover
7. Eddie Taylor – Ride 'Em On Down
8. Slim Harpo – I'm A King Bee
9. Magic Sam – All Your Love
10. Elmore James – Dust My Broom
11. Little Walter – Just Your Fool
12. Muddy Waters – I Want To Be Loved
13. Big Bill Broonzy – Key To The Highway
14. Robert Johnson – Love In Vain Blues
15. Mississippi Fred McDowell – You Gotta Move
16. Jimmy Reed – Bright Lights, Big City
17. Big Maceo – Worried Life Blues
18. Little Johnny Taylor – Everybody Knows About My Good Thing (Part 1)
19. Howlin' Wolf – Commit A Crime
20. Otis Rush – I Can't Quit You Baby
21. Jay McShann & Walter Brown – Confessin' The Blues
DISC TWO:
1. Howlin' Wolf – Just Like I Treat You
2. Little Walter – I Got To Go
3. Chuck Berry – Carol
4. Bo Diddley – Mona
5. Muddy Waters – I Just Want To Make Love To You
6. Elmore James – Blues Before Sunrise
7. Eddie Taylor – Bad Boy
8. Boy Blue – Boogie Children
9. Jimmy Reed – Little Rain
10. Robert Johnson – Stop Breakin' Down Blues
11. Reverend Robert Wilkins – The Prodigal Son
12. Lightnin' Slim – Hoodoo Blues
13. Billy Boy Arnold – Don't Stay Out All Night
14. Bo Diddley – Craw Dad
15. Dale Hawkins – Suzie Q
16. Amos Milburn – Down The Road Apiece
17. Howlin' Wolf – Little Baby
18. Little Walter – Blue And Lonesome
19. B.B. King – Rock Me Baby
20. Buddy Guy – Damn Right I've Got The Blues
21. Muddy Waters – Mannish Boy